This is the third in a new series of posts, where we're looking in detail at timing your fund investments. In our last two posts we discussed the importance of recognising chart patterns when timing buys. In this post we'll go on to look at stop losses.
If you would like to know more, please just download our free report Fund Timing: When to Buy and When to Exit.
Stop losses and funds
When we trade stocks we use stop losses. If a stock we own drops 7% below our buy price, we sell it. However, with funds we don't always use stop losses. One thing you have to be careful of when buying a fund is exit fees. Sometimes in a fund's Key Investor Information Document (KIID) you discover that it has an exit charge. If a fund does come with an exit charge, you sometimes see a clause in the KIID that states that any investor who decides to sell the fund within a 90-day period of buying it will be penalised.
Not all funds carry exit fees, however if the fund did come with an exit clause and you used a stop loss, you could get whacked with a hefty 5% fee. Trading on the Fidelity platform, we are fortunate enough to not suffer exit fees as they waive them on all the funds, however exit penalties are not the only reason we generally don't use stop losses when trading funds. Funds are a completely different animal to stocks and have to be treated differently.
They are not as risky as individual equities because a single stock could fall as much as 50% in one day and the most we've seen a fund drop in one day is about 8%. Stocks can tank and never come back because single businesses can go into liquidation overnight, however funds are different because they usually own anything from 30–100 stocks. This helps to provide the fund with diversification and it also helps to lower the risk.
If one of the stocks that the fund owns implodes, it's not likely to create a huge negative impact on the fund's value. Typically, funds only fall hard when all the stocks that the fund owns fall hard. And so for this reason, if the fund drops in price just after buying it, we usually hang on because the fall in price is typically due to the market experiencing a normal and natural correction.
When the market corrects, most funds correct and so, if we believe the retracement is normal and what we class as a healthy bull market correction, we're prepared to give the fund room to breathe. Our thinking is, we want to see how our new fund performs when the market eventually finds a floor and starts its next rally. If our fund was outperforming and therefore 'in' the money flow, we'd keep it but if it wasn't performing, we'd normally exit.
A stop loss would have cost us a gain of 64.9%
Here is an example of when we broke the rules and bought a fund when it was low in price.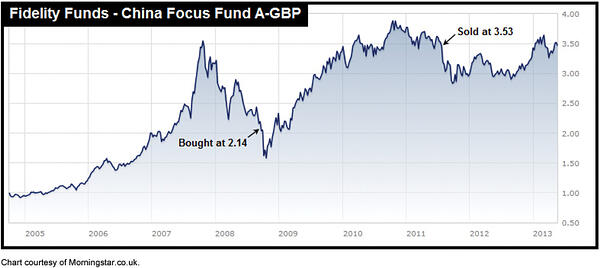 After buying it on December 16th 2008 at a price of 2.14, it then proceeded to fall to a price of 1.78, which resulted in a 16.8% paper loss.
However, if we had adopted the 7% stop loss rule we use when buying stocks, we would have missed out on bagging a tidy gain of 64.9% over a 31 month period. For reference, we sold this fund at a price of 3.53 on July 27th 2011.
We've now covered the key points associated with when to buy, so in our next post in this series we'll look at when to sell a fund. Remember, if you would like to know more, please just download our free report Fund Timing: When to Buy and When to Exit.
As always, if you have any questions or thoughts on the points covered in this post, please leave a comment below or connect with us @ISACO_ on Twitter.

About ISACO
ISACO specialises in ISA and SIPP Investment and is the pioneer of 'Shadow Investment'; an easy way to grow your ISA and SIPP at low cost. Together with our clients, we have an estimated £57 million actively invested in ISAs and pensions*. Clients like us because we have a great track record of 'beating' the FTSE 100**. Over the last 16 years, we've outperformed the Footsie by 60.2% and over the last 5 years, we've averaged 14.5% each year versus the FTSE 100's 8.8%. You can find us at www.ISACO.co.uk.
What is Shadow Investment?
Picking the right fund for your ISA and SIPP is not exactly the easiest job in the world. And knowing 'when' to buy and 'when' to exit is even more difficult! Our 'Shadow Investment' Service is here to help. Our service allows you to look over our shoulder and buy the same funds that we are buying.
When we are thinking of buying a fund, we alert you so that you have the opportunity to buy it on the same day that we buy it. We also tell you about when we are planning to exit the fund. You control your investment account, not us. You can start small and invest as little or as much money as you like.
By knowing what we are buying, when we are buying and when we are exiting, throughout the year you can mirror our movements and in effect replicate our trades. This means you have the opportunity to benefit from exactly the same investment returns that we get. Our investment aims are 10–12% per year.
We are totally independent, fully transparent and FCA compliant. We're warm, friendly and highly responsive and it's a very personal service that gives you direct access to the Sutherland brothers; ISACO's two founders.
Who are ISACO's clients?
Clients who benefit most from our service have over £250,000 actively invested and the majority of them are wealthy retirees, business owners, self-employed professionals and corporate executives. We also have clients from the financial services sector, such as IFAs and wealth managers.
Do you have questions?
To have all your questions answered, call 0800 170 7750 or email us at: info@ISACO.co.uk.
*November 15th 2012: Internal estimation of total ISA and pension assets owned by ISACO Investment Team and ISACO premium clients.
**Long-term performance: December 31st 1997 - December 31st 2013 ISACO 91.3%, FTSE 100 31.1%. 5 year performance: December 31st 2008 - December 31st 2013. ISACO Investment performance verified by Independent Executives Ltd.

> " target="_self"> To download our free report 'A Golden Opportunity' >>
>" target="_self"> To download our Shadow Investment brochure >>
> " target="_self"> To start your 14 day free 'no obligation' trial of Shadow Investment >>