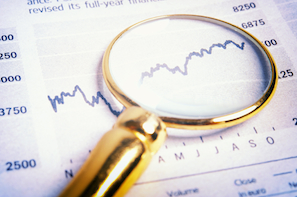 This is the first in a brand new series of posts, where we're going to be looking at gauging the stock market's direction.
Even if you have a real knack for picking the best fund, if you are wrong about the trend of the market, your portfolio is going to suffer. This happened to thousands of uninformed investors in the great bear markets of 2000–2002 and 2007–2009. Many investors mistakenly think that it is all about choosing the best investments to park their money in.
This means it's essential that you have a reliable method of determining which way the market is heading. Throughout your investment journey, you will ideally need to know if we are in a bull (up) or a bear (down) market. In this series we'll look at how you can get in sync with the market's trend and direction.
If you would like to know more, please just download our free report How to Gauge Stock Market Direction.
Is the market healthy or unhealthy?
If we are in a bull market, are we in the early or later stages? We've found that to win with investing, you have to watch what the market is doing and interpret what it means. For example, is the market behaving well? Or is it weak and acting out of character? To achieve investment success, it helps if you have a good handle on the market's current health and likely future direction.
The best way we've found of achieving this is to watch what the general market averages are doing on a daily basis. In his bestselling book, How to Make Money in Stocks, William O'Neil said: 'Don't let anyone tell you that you can't time the market'. According to O'Neil, the mistaken belief that no one can time the market evolved more than 30 years ago when most funds that tried it were unsuccessful.
This is because they had to buy and sell at exactly the right time but due to their asset size problems, it took weeks to raise cash and weeks to re-enter the market. Therefore, the top management at these funds imposed rules on their fund managers that required them to remain fully invested (95–100% of assets).
How to Make Money in Stocks – William J. O'Neil Third edition – Page 49.
Can the market be timed?
Even though a stock market legend like William O'Neil says that it is possible to time the market, opinions are divided on this highly debatable topic. Our belief is that the market can be timed – although it is extremely difficult and to always get it right is impossible. In the 2003–2007 bull market, we used a tactical timing approach.

This approach involved attempting to exit the market every time it experienced a correction. Our aim was to spot intermediate market tops and move into cash. We made many mistakes and it really was a costly lesson, which resulted in underperformance. We like to learn from our mistakes however, and when something is not working, we change it.
Strategic timing is more effective
Since 2008, we've used a strategic timing approach and it's proved to have been far more effective. Strategic timing is less frequent than tactical timing and involves staying fully invested during bull market phases. The goal is to get out of the market into cash once the bull market has finished its run. This is when we believe a major downtrend has been triggered and a new bear market has begun.
During the bull phase, we normally make no more than four switches to our portfolio each year. During bull markets, our goal is to identify which areas, sectors and countries the big money is flowing into and invest in them. This means that during a bull phase we make switches out of any funds that show underperformance into ones that we believe offer greater growth potential. This change has resulted in outperformance during this latest bull market.
Sometimes you just have to be honest with yourself when something isn't working, admit to yourself that you've made a mistake and then make a change. Hopefully, by sharing this with you, you won't make the same mistake we made and try to time the market too frequently.
If you buy into our thinking, each and every day, your job will be to try to determine the stock market's health. To do this, you simply observe and study the major indexes carefully.
We do this by tracking and analysing the following US indexes:
The NASDAQ Composite

The S&P 600

The S&P 500

The Dow Jones Industrial Average
Even though we like to keep an eye on all the world exchanges, our main focus has always been on the US markets and there are four reasons why we do this:


1. The US is the world's largest economy
2. The US is the leading market to watch for clues of future direction
3. The US stock market indexes long-term growth exceeds other world exchanges
4. Our philosophy involves watching the behaviour of US institutional investors
The other indexes around the world that we watch are the FTSE 100, the Nikkei 225, the SSE Composite, the BSE SENSEX and the Russian Trading System (RTS). As well as watching the four main US indexes, we believe it's crucial to watch the behaviour of the US's leading stocks and leading sectors. By studying these four indexes, plus the action of leading stocks and sectors, each and every day, you can keep a close eye on the market's character and quickly notice any significant changes in the market's 'personality', which can help you to spot market tops and bottoms.
In the next post in this series we'll go on to look at a 'buy and hold' investment strategy and discuss whether this approach is broken.
Remember, if you would like to know more, please just download our free report How to Gauge Stock Market Direction.
As always, if you have any questions or thoughts on the points covered in this post, please leave a comment below or connect with us @ISACO_ on Twitter.

About ISACO
ISACO specialises in ISA and SIPP Investment and is the pioneer of 'Shadow Investment'; an easy way to grow your ISA and SIPP at low cost. Together with our clients, we have an estimated £57 million actively invested in ISAs and pensions*. Clients like us because we have a great track record of 'beating' the FTSE 100**. Over the last 16 years, we've outperformed the Footsie by 60.2% and over the last 5 years, we've averaged 14.5% each year versus the FTSE 100's 8.8%. You can find us at www.ISACO.co.uk.
What is Shadow Investment?
Picking the right fund for your ISA and SIPP is not exactly the easiest job in the world. And knowing 'when' to buy and 'when' to exit is even more difficult! Our 'Shadow Investment' Service is here to help. Our service allows you to look over our shoulder and buy the same funds that we are buying.
When we are thinking of buying a fund, we alert you so that you have the opportunity to buy it on the same day that we buy it. We also tell you about when we are planning to exit the fund. You control your investment account, not us. You can start small and invest as little or as much money as you like.
By knowing what we are buying, when we are buying and when we are exiting, throughout the year you can mirror our movements and in effect replicate our trades. This means you have the opportunity to benefit from exactly the same investment returns that we get. Our investment aims are 10–12% per year.
We are totally independent, fully transparent and FCA compliant. We're warm, friendly and highly responsive and it's a very personal service that gives you direct access to the Sutherland brothers; ISACO's two founders.
Who are ISACO's clients?
Clients who benefit most from our service have over £250,000 actively invested and the majority of them are wealthy retirees, business owners, self-employed professionals and corporate executives. We also have clients from the financial services sector, such as IFAs and wealth managers.
Do you have questions?
To have all your questions answered, call 0800 170 7750 or email us at: info@ISACO.co.uk.
*November 15th 2012: Internal estimation of total ISA and pension assets owned by ISACO Investment Team and ISACO premium clients.
**Long-term performance: December 31st 1997 - December 31st 2013 ISACO 91.3%, FTSE 100 31.1%. 5 year performance: December 31st 2008 - December 31st 2013. ISACO Investment performance verified by Independent Executives Ltd.

To download our free report 'A Golden Opportunity' >>
To download our Shadow Investment brochure >>
To start your 14 day free 'no obligation' trial of Shadow Investment >>