With the April 5th deadline approaching, we wanted to remind you that every tax year end marks the end of an annual opportunity to take advantage of one of the few tax benefits now available.
As you are probably aware, we now each get an annual ISA/NISA allowance of £15,000 (£30,000 per adult couple) for this tax year and you can't carry this allowance over into next year. And so if you don't open and fund your new ISA (NISA) by the end of deadline day on 5th April, your allowance is gone for good.
Of course, the next day – 6th April – is a brand new tax year and we all get a new ISA/NISA allowance (£15,240) for the 15/16 tax year.
A welcome boost for ISAs
On March 19th 2014, the Chancellor announced during his budget speech, a raft of changes designed to help savers and investors including a new increased ISA allowance from the 1st July 2014.
ISAs – new rules from the 1st July 2014
New ISA allowance - The ISA allowance is £15,000 from 1st July 2014.

Improved flexibility - under the new rules you can split the ISA allowance as you wish between a Cash ISA and stocks and shares ISA.

Improved transfer options - Since July last year you have been able to transfer from a stocks and shares ISA to a Cash ISA, and vice versa. Under previous rules you could only transfer from a Cash ISA to a stocks and shares ISA.

Tax-free interest in stocks and shares ISAs - you have always been able to hold cash in a stocks and shares ISA, but any interest is in effect paid net of basic rate tax. Under the new rules interest on cash held in a stocks and shares ISA is completely tax-free.

Peer to peer lending now a permissible investment - the Chancellor also announced that 'peer to peer' lending would now become a permissible investment. These are schemes which match borrowers looking for low rate loans with savers looking for higher interest rates. The regulation came into effect on the 1st April 2014.

Junior ISAs -

the amount you can invest each tax year rose to £4,000 on 1st July 2014. Consumers will be able to transfer Child Trust Funds to Junior ISA transfers from April 2015. The Junior ISA allowance will be £4,080 for the tax year 15/16.
A little history
ISAs were introduced in 1999, replacing a similar scheme called PEPs that ran from 1987 to 1999. The ISA's history is important because it shows their incredible potential.
ISA maximum contribution history - PEP and ISA history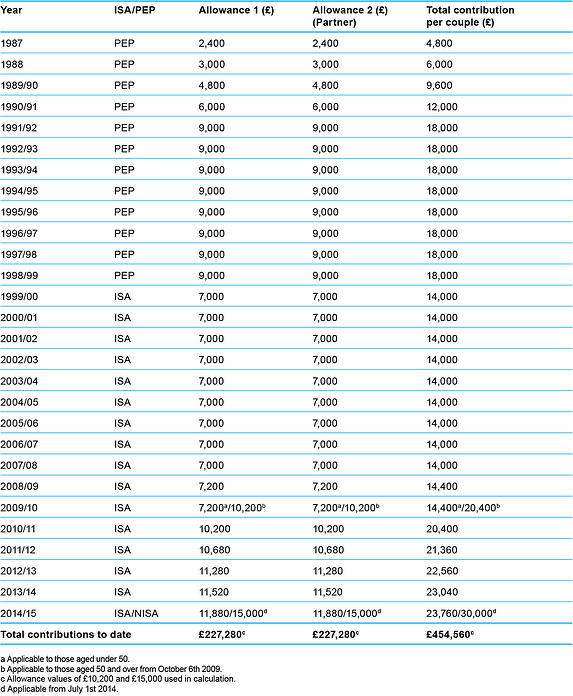 Over the period covered in this table you can see that it would have been possible for a couple to shelter over £400,000 from the taxman by investing the maximum PEP/ISA contribution each and every year. £400,000 tax-free is a significant amount of money, however, if this same couple had managed to achieve an annual growth rate of 7%, they would have become ISA millionaires!
ISA millionaire through the power of compound interest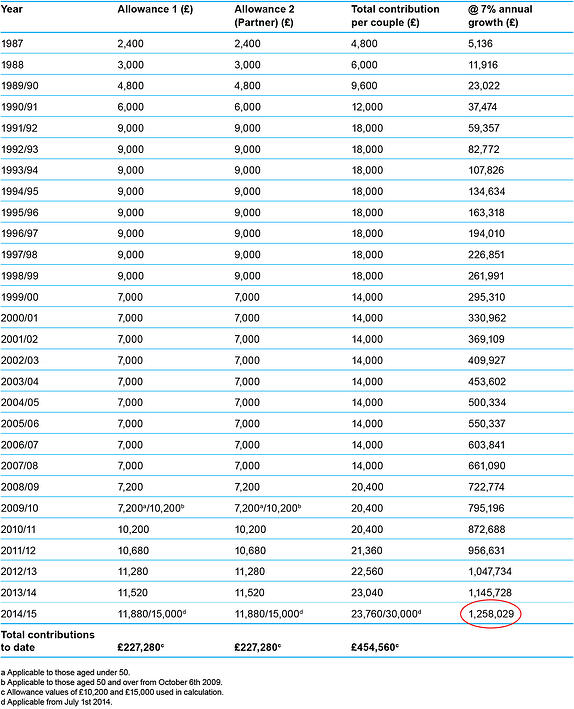 By saving annually into a PEP/ISA/NISA, a couple adding the full allowance each year and achieving an annual growth rate of 7%, would have accumulated £1.258 million. That's exciting!
And so it's clear to see that adding each year is an extremely wise thing to do especially when the incredible power of compounding is factored in.
As always, if you have any questions or thoughts on the points covered in this post, please leave a comment below or connect with us @ISACO_ on Twitter.
Never been a better time to invest in an ISA
With the April 5th deadline approaching and with new extremely attractive ISA rules announced last year, ISAs are even more valuable. Therefore, in our opinion there has never been a better time to invest in an ISA. The tax year ends on 5th April, so if you have the capital to invest, please act now to ensure you make use of this year's £15,000 allowance (£30,000 per adult couple). If you need assistance with adding to your ISA (if you are an ISACO client), or want some suggestions on how to get your ISA working harder, get in touch with us now by either emailing us at info@ISACO.co.uk or call 0800 170 7750.
About ISACO
ISACO specialises in ISA and SIPP Investment and is the pioneer of 'Shadow Investment'; a unique service that allows you to look over our shoulder and buy the same funds that we are buying. Together with our clients, we have an estimated £57 million actively invested in ISAs and pensions*. Clients like us because we have a track record of 'beating' the FTSE 100**. Over the last 17 years, we've outperformed the Footsie by 77.9%. You can find us at www.ISACO.co.uk.
What is Shadow Investment?
Picking the right fund for your ISA and SIPP is not exactly the easiest job in the world. And knowing 'when' to buy and 'when' to exit is even more difficult! Our 'Shadow Investment' Service is here to help. Our service allows you to look over our shoulder and buy the same funds that we are buying.
When we are thinking of buying a fund, we alert you so that you have the opportunity to buy it on the same day that we buy it. We also tell you about when we are planning to exit the fund. You control your investment account, not us. You can start small and invest as little or as much money as you like.
By knowing what we are buying, when we are buying and when we are exiting, throughout the year you can mirror our movements and in effect replicate our trades. This means you have the opportunity to benefit from exactly the same investment returns that we get. Our investment aims are 8–10% per year.
We are totally independent, fully transparent and FCA compliant. We're warm, friendly and highly responsive and it's a very personal service that gives you direct access to the Sutherland brothers; ISACO's two founders.
Who are ISACO's clients?
Clients who benefit most from our service have over £250,000 actively invested and the majority of them are wealthy retirees, business owners, self-employed professionals and corporate executives. We also have clients from the financial services sector, such as IFAs and wealth managers.
Do you have questions?
To have all your questions answered, call 0800 170 7750 or email us at: info@ISACO.co.uk.

* November 15th 2012: Internal estimation of total ISA and pension assets owned by ISACO Investment Team and ISACO premium clients.
** December 31st 1997 - December 31st 2014 ISACO 105.5%, FTSE 100 27.6%. ISACO Investment performance verified by Independent Executives Ltd.

To download our free report 'A Golden Opportunity' >>
To download our Shadow Investment brochure >>