This is the sixth in a series of posts where we're looking at gauging the stock market's direction.
If you would like to know more, please just download our free report How to Gauge Stock Market Direction.
Using price and volume charts
One of the best ways of reading the market's health and gauging its likely future direction is to look at charts. A stock chart is a graph that displays the price and volume history of a given security or index over a period of days, months or years. Price and volume charts help you to see what the professional investors are doing; allowing you the opportunity to follow in the large investors' footsteps.

Institutional investors cannot hide their tracks. Think of an elephant getting into a bathtub. Whether they are buying or selling, through a chart you can clearly see what the big players are doing. Price action is how a stock or index changes in price. Volume action is the number of shares traded.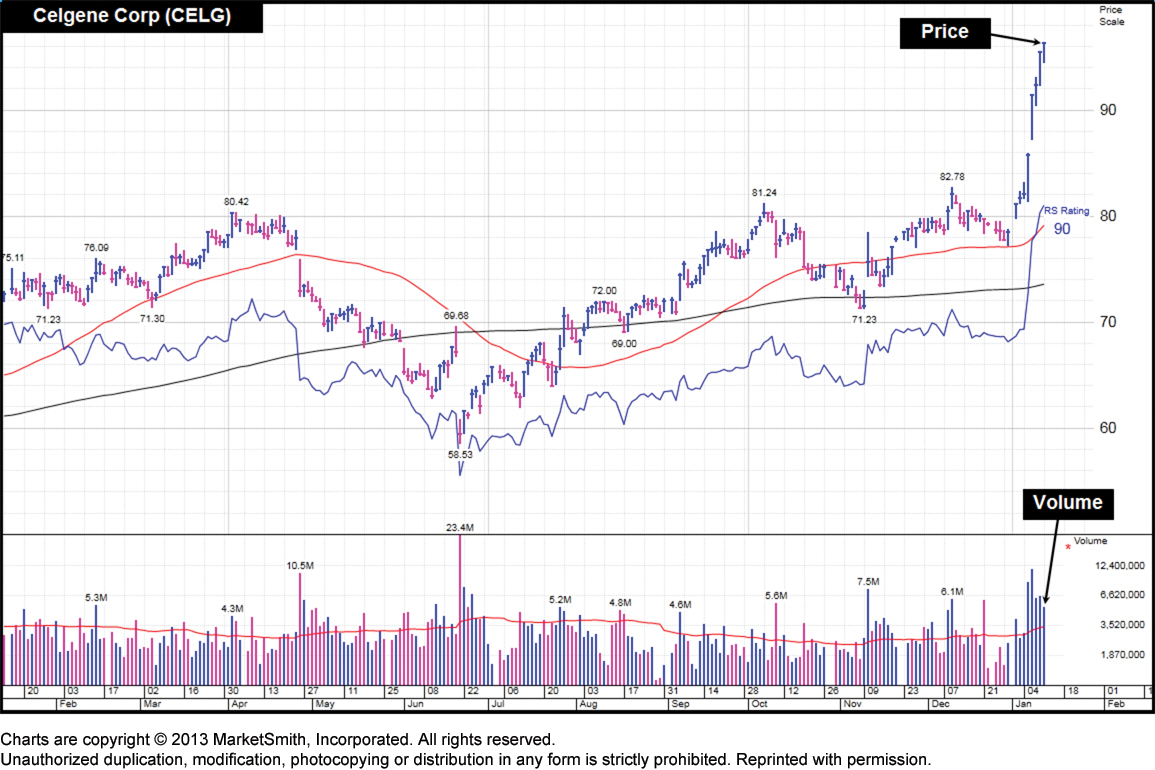 In the volume part of the chart, notice the red horizontal moving line.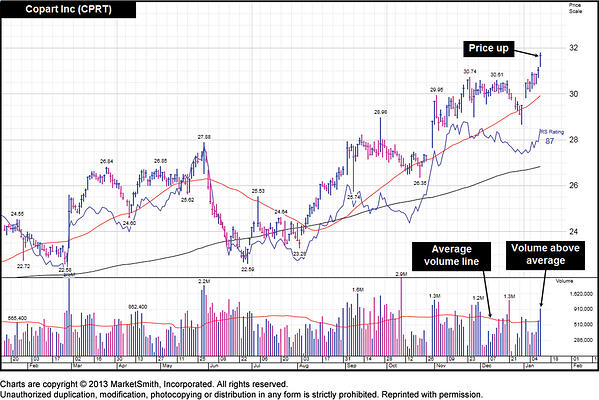 This represents the average volume levels over the previous 50 days. If trading volume is above average and price action is up, institutional investors are buying. That's good. This is classed as healthy behaviour.

On the other hand, if volume is above average and price action is down, it means institutional investors are selling. That's not good. This is classed as unhealthy behaviour.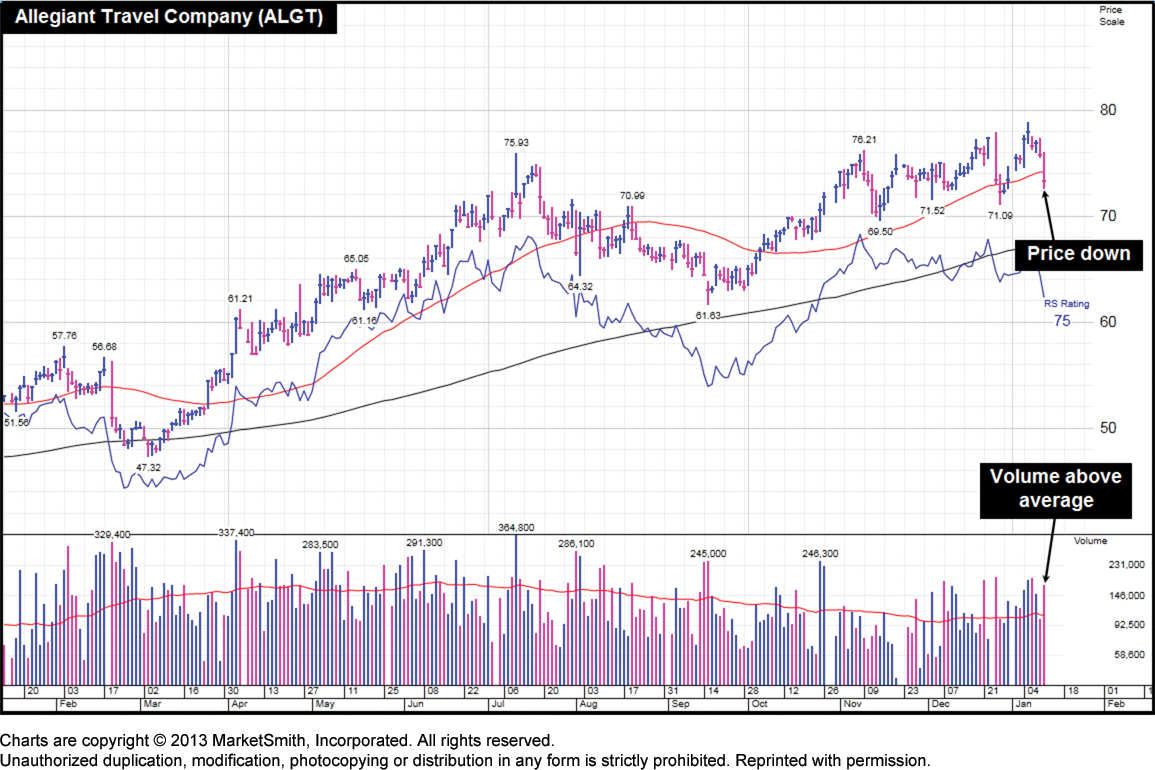 If volume is below average and the price action is up, it indicates little demand from institutional investors. That's also not good. This is seen as unhealthy behaviour.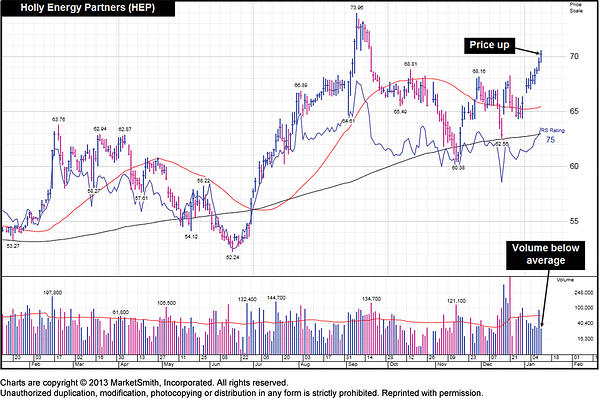 And finally, if volume is below average and the price action is down, it indicates that institutional investors are reluctant to sell. This type of action is good. This is seen as healthy behaviour.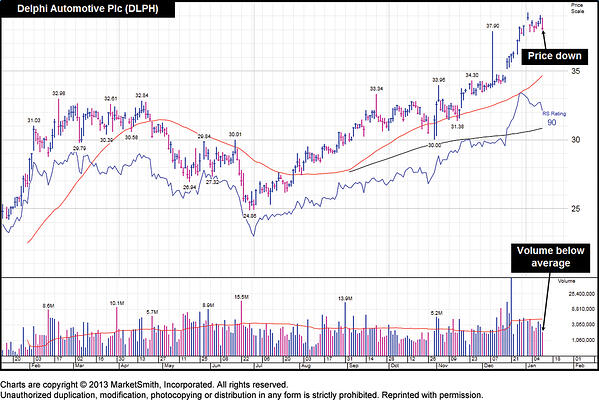 It does take a lot of buying or selling to change an established trend. By carefully analysing the market's behaviour on a daily basis, it can assist you in trying to determine whether the trend has changed. If you believe it has, you can act accordingly. If, after analysis, you thought the trend was up, you would invest.

However, if you believed the market's trend was down, you could park in cash. By watching the trading activity closely, you can see exactly what institutional investors are doing with their money – effectively allowing you to get in sync, and trade with the trend, instead of against it.
Reading the market every day could reap you a fortune
We suggest you aim to make it a habit of reading the market day in, day out. It's important to read and analyse the market regularly because a piece of positive or negative news could change the whole market dynamic in just a single day. How the market responds to the news will ultimately govern how you react. The market's health and direction could alter in the space of 24 hours, which is why you should remain vigilant at all times. If you take your eye off the market, you may miss out on the opportunity of getting in when a new uptrend has been established.
When you get in early, you have the potential to profit from exciting investment opportunities but when you fail to get in early you could miss out on strong investment returns over relatively short time frames. Another reason to read the market every day is to avoid getting locked into a falling market when a downtrend has been triggered. This could result in unnecessary loss – that could have been avoided by being a more diligent follower of index, stock and sector activity.
Why it pays to watch what the big players are doing
By making it a habit to read the market every day, five days a week, you'll be able to make a good call on its health. By reviewing the behaviour of the market over the previous several weeks, and the activity that day, you'll be able to decide if it is in an uptrend and healthy, or in a downtrend and unhealthy. If you class the market as being healthy, it means you'll probably be invested.
On the other hand, if you believe the market to be unhealthy, you will be able to temporarily park in cash. The stance you take on the market can be created by daily analysis of the market indexes and leading stocks. Your in-depth intraday look at the market could be followed by a thorough after-market check up. The concluding results could then be reported in your own personal trading diary.
In the next post in this series, we'll look at how to spot market tops and bottoms.
Remember, if you would like to know more, please just download our free report How to Gauge Stock Market Direction.
As always, if you have any questions or thoughts on the points covered in this post, please leave a comment below or connect with us @ISACO_ on Twitter.
About ISACO
ISACO specialises in ISA and SIPP Investment and is the pioneer of 'Shadow Investment'; a unique service that allows you to look over our shoulder and buy the same funds that we are buying. Together with our clients, we have an estimated £57 million actively invested in ISAs and pensions1. Clients like us because we have a track record of 'beating' the FTSE 1002. Over the last 17 years, we've outperformed the Footsie by 77.9%. You can find us at www.ISACO.co.uk.
What is Shadow Investment?
Picking the right fund for your ISA and SIPP is not exactly the easiest job in the world. And knowing 'when' to buy and 'when' to exit is even more difficult! Our 'Shadow Investment' Service is here to help. Our service allows you to look over our shoulder and buy the same funds that we are buying.
When we are thinking of buying a fund, we alert you so that you have the opportunity to buy it on the same day that we buy it. We also tell you about when we are planning to exit the fund. You control your investment account, not us. You can start small and invest as little or as much money as you like.
By knowing what we are buying, when we are buying and when we are exiting, throughout the year you can mirror our movements and in effect replicate our trades. This means you have the opportunity to benefit from exactly the same investment returns that we get. Our investment aims are 8–10% per year.
We are totally independent, fully transparent and FCA compliant. We're warm, friendly and highly responsive and it's a very personal service that gives you direct access to the Sutherland brothers; ISACO's two founders.
Who are ISACO's clients?
Clients who benefit most from our service have over £250,000 actively invested and the majority of them are wealthy retirees, business owners, self-employed professionals and corporate executives. We also have clients from the financial services sector, such as IFAs and wealth managers.
Do you have questions?
To have all your questions answered, call 0800 170 7750 or email us at: info@ISACO.co.uk.

1 November 15th 2012: Internal estimation of total ISA and pension assets owned by ISACO Investment Team and ISACO premium clients.
2 December 31st 1997 - December 31st 2014 ISACO 105.5%, FTSE 100 27.6%. ISACO Investment performance verified by Independent Executives Ltd.

To download our free report 'A Golden Opportunity' >>
To download our Shadow Investment brochure >>