It has been a while since we posted our last blog and so we felt it fitting to get you up to speed with our latest thoughts on the market.

Let's begin with looking at what we were saying in our Daily Market Update on Thursday April 27th 2017. In that update we said…
'If we rewind back to the activity we witnessed from the NASDAQ Composite on April 13th (Point G), you could say that the drop – where it fell that day below its 50-day moving average – made us feel a little bit uncomfortable. It appeared at the time that something may have changed with the overall market dynamic.'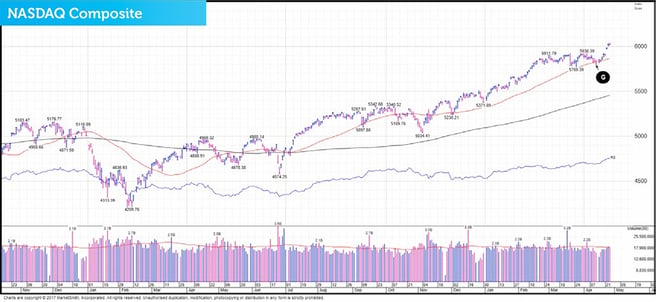 We followed on with…

'The good thing is that since then the action has been solid. In fact, the Composite on April 24th made a bullish breakout attempt (Point H) from an 8-week flat base (Point I). The great news is that so far the breakout has held.'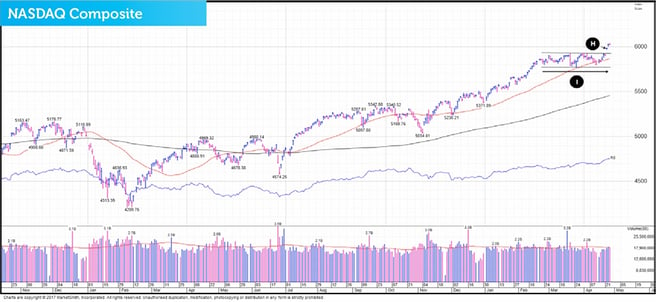 Next we said…

'The NASDAQ Composites big brother, the NASDAQ 100 has also recently broke out of a sideways base (Point J). That's also good news.'



We then commented on two more indexes to keep an eye on:
'We also like what is happening with US small and mid-cap stocks. The S&P 600 (small cap) and S&P 400 (mid cap) have been in a resting period for much longer than the two tech brothers.
This was because they had both run up so much and therefore needed a longer break. It appears to us from the way they are both acting, that they are also soon going to making breakout attempts. The 600's breakout point is 864 (Point K) and it's currently trading at 863, just one single point below this key breakout level.'



Next we said…
'The 400's breakout is at 1761 (Point L) and it's currently trading at 1748. That means the US mid cap index is trading just 0.7% shy of its breakout point.'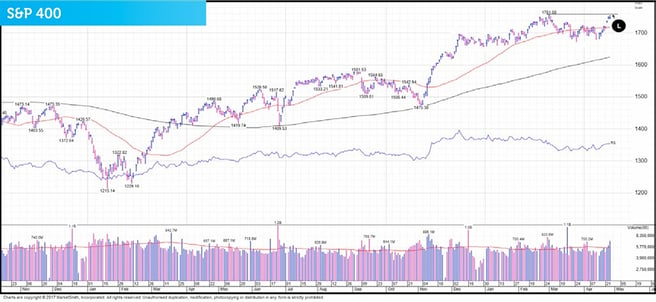 We concluded with…
'Collectively right now we are getting very strong signals to say 'all is good.' Does that mean we are now heading higher? It certainly looks that way. In fact it appears to us that the next leg up may have just begun. What adds to this belief is that recently we've seen 'global equity breadth'.
Asia and Europe have also joined the party and that's exactly what helps to fuel a new uptrend. If this breadth around the globe can continue, and we carry on seeing the Asian and European equity markets rising in step with the US markets, it will increase the probability of this new uptrend succeeding.'
Market needs a rest
In our Daily Market Update on Thursday May 4th 2017, we said…
'If we take this opportunity to recap recent action, on April 24th, the NASDAQ Composite broke out of an 8-week flat base (Point M). It's good to know that fresh breakouts are always vulnerable to negative reversals just after the event has occurred. Therefore we like how for the next six days (Point N), the Composite kept on climbing higher and demonstrated no stalling or reversal activity. This constructive behaviour has now increased the likelihood that the breakout will prove successful.

From here, we would not be surprised to see the Composite taking a break. Even though it's always nice when the market keeps ascending, it's actually good for equities when the indexes take a rest. Regrouping for a while would allow the NASDAQ's 50-day moving average (Point O) to play catch up.'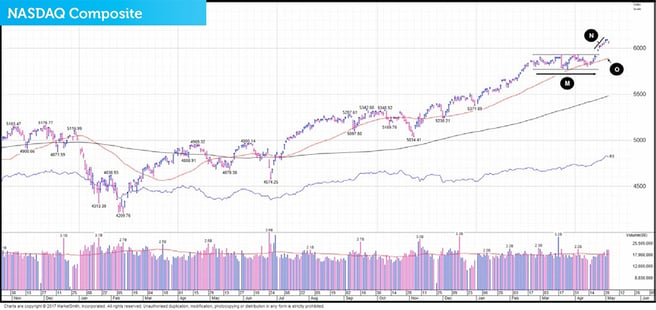 This was followed by…
'Our expectations from here are that the recent 7-day run has probably hit a temporary ceiling. We believe that a resting period is now required and if this rings true, after that time of rest is over, the market is most likely to continue its recent move northwards.'
----------------------------------------------------------------------------------------------------------------------------------------------------------------
This information is taken from The Big Picture, to download a sample copy please just click here.
As always, if you have any questions or thoughts on the points covered in this post, please leave a comment below or connect with us @ISACO_ on Twitter.
A specialist in ISA and SIPP Investment
ISACO are a specialist in ISA and SIPP investment and together with our clients have an estimated £75 million actively invested1. Our flagship service is called 'Shadow Investment.' 'Shadow Investment' is a unique service which gives you the opportunity to look over our shoulder and buy the same investments that we personally own, effectively piggybacking on our expertise.
Put our money where our mouth is
The key difference with our service is that we put our money where our mouth is. And as an ISACO premium client, you'll have the opportunity to mirror our 'market–beating2' investment portfolio throughout the year. This gives you the potential for achieving almost identical returns to the ones we make. Past performance is not a guide to future performance.
Shadow Investment benefits:
Low cost (typically 1% per year)
Saves you time
Offers the potential for superior 'tax free' growth (8-10% annual aims).
The Shadow Investment Service has been created to save you the hassle of having to become an investment expert and allows you to keep full control of your investment account. It takes the hard work out of investing and helps to remove the uncertainty of knowing what investments to buy, when to buy, if to hold and when to sell.
Get in touch
If you have over £250,000 actively invested, click here to arrange a free financial review (valued at £495) with Paul Sutherland, ISACO's Managing Director.
1 Internal estimation taken January 1st 2015 of total ISA and pension assets owned by the ISACO Investment Team and ISACO premium clients.
2 December 31st 1997 - December 31st 2016 ISACO 149.0%, FTSE 100 38.8%.
To download our free report 'A Golden Opportunity' >>
To download our Shadow Investment brochure >>