We think the bull market that started February 2016 is over. As most investors are aware, the behaviour of the global markets since October 4th have been brutal. Over that period, we've seen the NASDAQ Composite plunge 11.4% (Point A). Knowing what we now know, we believe that the correction on the NASDAQ Composite that begun late January and finished early June was what's known as a late stage faulty base.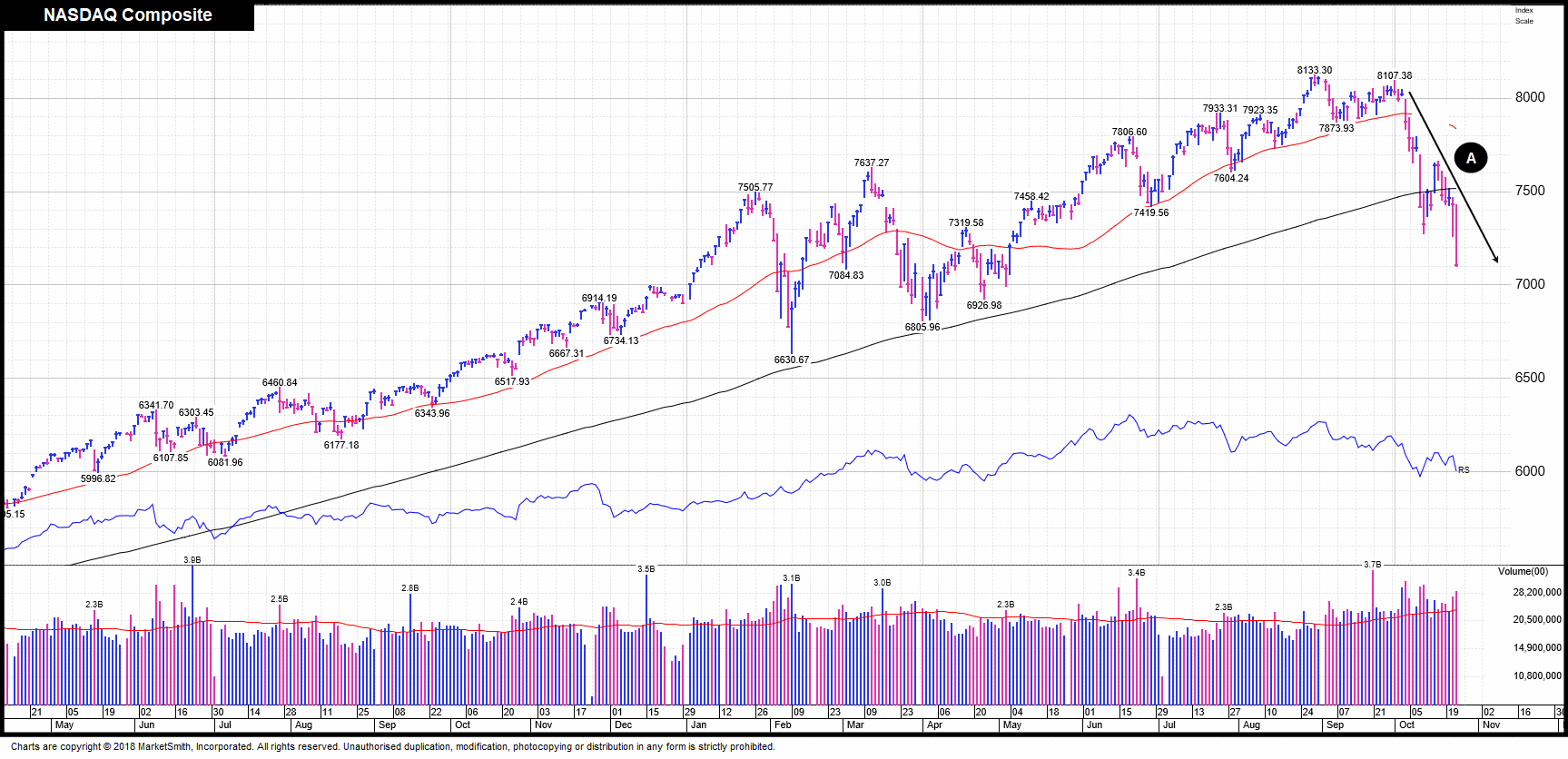 That means the rally that we saw occur from June 1st to August 30th (Point B) was a phony one.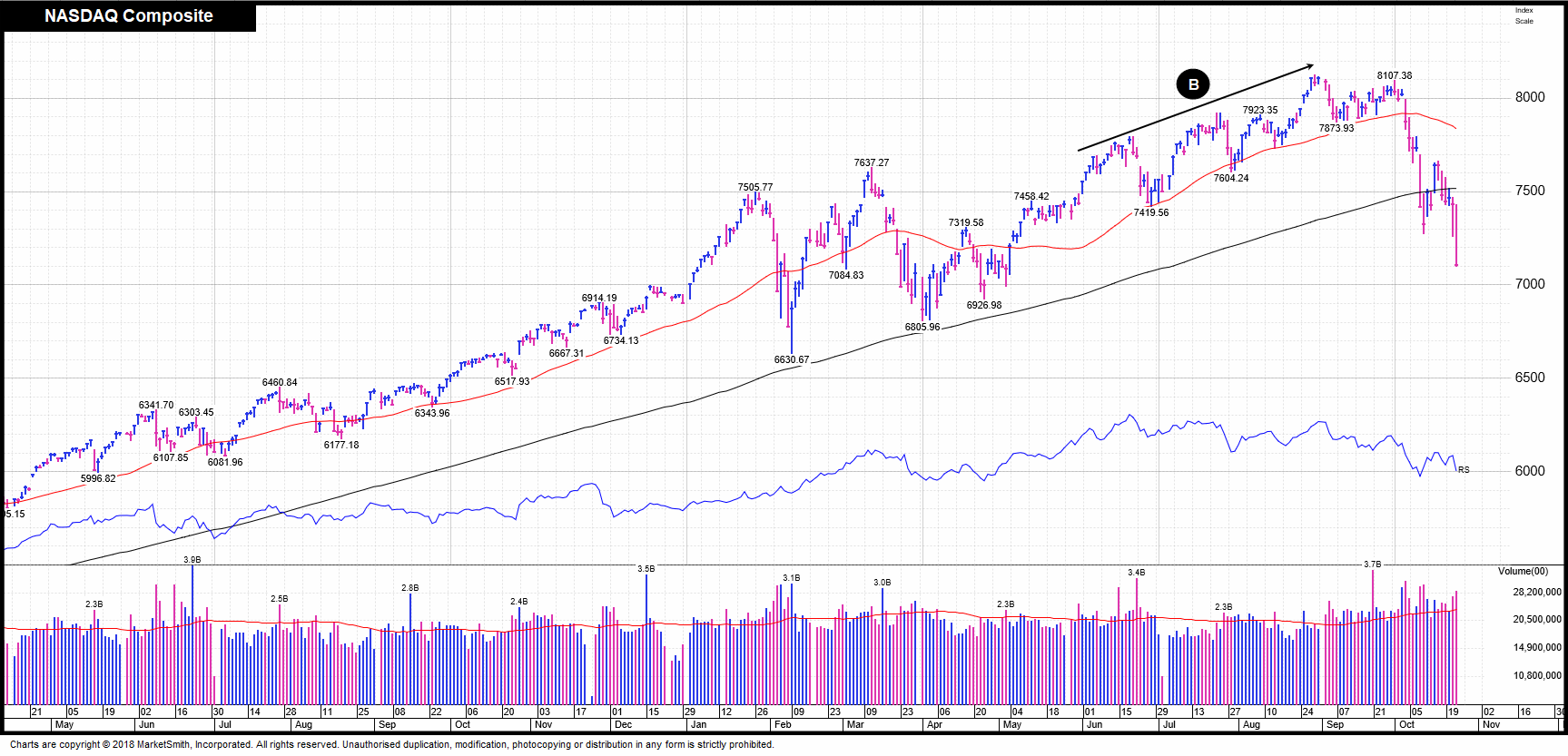 In other words, buying into it would have got you into hot water. When we made the decision to raise approximately 50% cash February 7th this year (Point C), our call on a 'change of character' now seems spot on.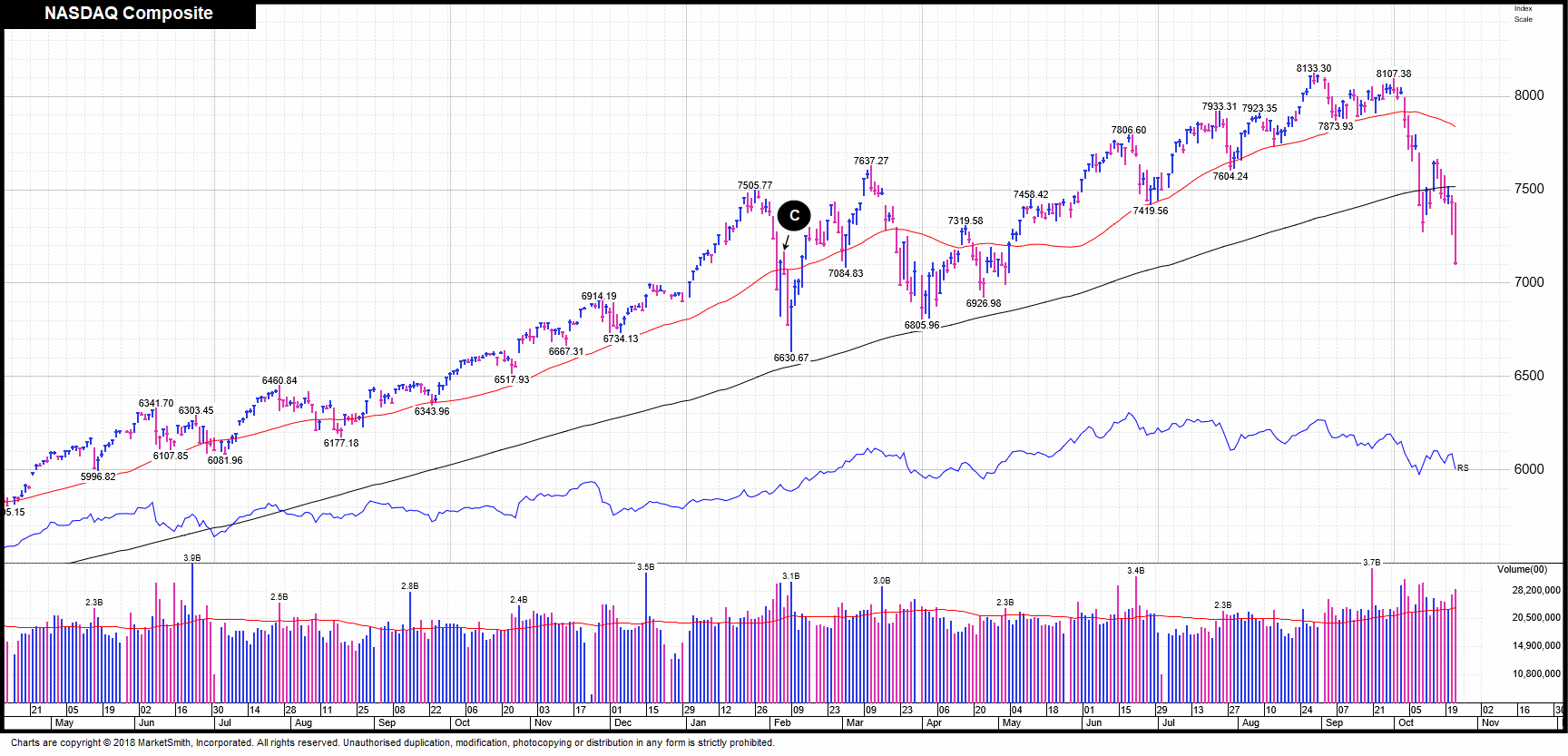 What threw us was the fact that the market from that point started to go up before it finally topped out August 30th.
From the time we raised cash to the present day, there has been multiple clues telling us to not get sucked into the rally and we are so proud that we didn't. If we had, we now know it would have been a disaster. The good news is that right now fear is high and from a contrarian point of view, this is very good. What's more, the market needed this harsh violent correction to help it reset. It's also great that we are hedged against the harsh falls with a lovely cash buffer of 53.8%.
Our belief is that now is not the time to raise more cash even though we have probably not yet hit the 'absolute' bottom. From here then it's a patience game of watch and wait. We are very excited about the future and what it holds because we know that the selling will eventually end and once all the sellers have been flushed out, we believe a brand new bull market will begin. That means there will be a multitude of attractive investment opportunities and so my friend, the future looks bright.
------------------------------------------------------------------------------------------------------------------------------------------------------
Some of the information contained in this blog has been taken from The Big Picture, to download a sample copy please just click here.
As always, if you have any questions or thoughts on the points covered in this post, please leave a comment below or connect with us @ISACO_ on Twitter.
A specialist in ISA and SIPP Investment
ISACO are a specialist in ISA and SIPP investment and together with our clients have an estimated £75 million actively invested1. Our flagship service is called 'Shadow Investment.' 'Shadow Investment' is a unique service which gives you the opportunity to look over our shoulder and buy the same actively managed funds that we personally own, effectively piggybacking on our expertise.
Put our money where our mouth is
The key difference with our service is that we put our money where our mouth is. And as an ISACO premium client, you'll have the opportunity to mirror our 'market–beating2. investment portfolio throughout the year. This gives you the potential for achieving almost identical returns to the ones we make. Past performance is not a guide to future performance.
Shadow Investment benefits:
Low cost (typically 1% per year)
Saves you time
Offers the potential for superior 'tax-free' growth (8% annual aims).
The Shadow Investment Service has been created to save you the hassle of having to become an investment expert and allows you to keep full control of your investment account. It takes the hard work out of investing and helps to remove the uncertainty of knowing what investment funds to buy, when to buy, if to hold and when to sell.
Get in touch
If you have over £250,000 actively invested, click here to arrange a free financial review (valued at £495) with Paul Sutherland, ISACO's Managing Director.
1 Internal estimation taken January 1st 2015 of total ISA and pension assets owned by the ISACO Investment Team and ISACO premium clients.
2 January 1st 1998 - December 31st 2017 ISACO 183.4%, FTSE 100 49.3%.